Storyline
Angus the fluffy cat retains its dignity even in a crazy Eastbourne family, unlike them. Eldest daughter Georgia is completely besotted with 'Stiff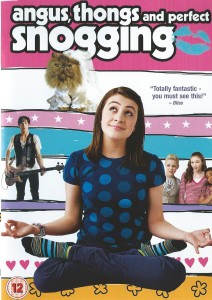 Dylans' band hottie Robbie, who just moved in from London and helps run an organic groceries shop with his brother Tom, whom her best friend Jas has the hots for. Peter Dyer calls Georgia his best ever kissing-course pupil, but she ignores him and later the brothers' other classmate Dave the Laugh. Robbie was considering to dump haughty Lindsay, but reconsiders given the immature brat's apparent cruelty. Thus manipulative Georgia keeps changing her mind about a grand birthday party and her father's career opportunities as engineer in New Zealand, while mother seems to flirt with hunky interior decorator Jem.
Production
Gurinder Chadha was originally brought into the project as a scriptwriter:
"When the project came to me, the studio, Paramount, had had it for five years and even though they're British books they had these two American guys adapt the book and they couldn't get it to work. I read the script and thought how weird, this is a sort of LA male's version of an English girl's childhood and then I read the books and I thought wow, there is something here that relates to me growing up that I hadn't seen in the script. I thought this could be a British genre film or be like Clueless or Mean Girls in England and I liked the idea of doing a British version of those films. Then it clicked that it should be like Sixteen Candles."
Most of the scenes were filmed on location in Brighton and Eastbourne. Others, such as the gig scene and some interiors and exteriors for Georgia's house, were filmed in and around Ealing Studios, London. Areas in nearby west London like Bishopshalt school in Hillingdon and the Liquid nightclub in Uxbridge were used as well. Other sites include locations in Teddington and Twickenham. Costumes included green blazers and kilts borrowed from St. Bede's Prep School in Eastbourne, and props included Eastbourne's signature blue bins to add to the effect and continuity when filming in multiple locations.
Cast

Georgia Groome as Georgia Nicolson: The main character, a 14-year-old girl who falls in love with Robbie and tries to get him to be her boyfriend throughout the film.
Aaron Johnson as Robbie Jennings: Georgia's love interest, he's in a band called The Stiff Dylans, and is initially Lindsay's boyfriend at the beginning.
Karen Taylor as Connie Nicolson: Georgia's mum, she is 'old-fashioned', and scares Georgia as it seems she gets very close to Jem, but also attempts to maintains a close relationship with her daughter.
Alan Davies as Bob Nicolson: Georgia's loving dad, a bit 'old-fashioned' too, as he does not want Georgia to have a party in a club for her birthday. Has to travel for work which upsets Georgia and her family.
Eleanor Tomlinson as Jas: Georgia's best friend, very girlish in understanding, and wants to get a boyfriend just as much as Georgia does. She worries about her lack of ample cleavage. She starts to date Tom, Robbie's fraternal twin brother.
Manjeeven Grewal as Ellen: Georgia's friend, in 'The Ace gang' along with Georgia, Jas and Rosie. She is the vulnerable one of the group. In the end, she dances with Dave and they kiss.
Georgia Henshaw as Rosie: Georgia's friend, fourth member of 'The Ace gang'. She is the experienced one of the group because she already has a boyfriend.
Kimberley Nixon as Lindsay (Slaggy Lindsay): Georgia's rival, is the main antagonist of the film. She is slim and very good looking but she is a complete bully to Georgia. She is seen as 'the slag of the century'.
Sean Bourke as Tom Jennings: Robbie's brother, later Jas' boyfriend.
Tommy Bastow as Dave "The Laugh": Georgia uses Dave to make Robbie jealous, which makes him feel very hurt. Dave is one of Robbie's best friends. He had feelings for Georgia until the party. He dances with Ellen and they share a kiss.
Liam Hess as Peter Dyer (Saliva Boy): He likes Georgia a lot, though the feeling is not mutual. He gives girls lessons on how to snog, charging five 'quid' for a session.
Matt Brinkler as Sven: Rosie's crazy boyfriend, an exchange student from Sweden.
Eva Drew as Libby Nicolson: Georgia's 6-year-old sister, very eccentric. Likes to dress up her cat Angus.
Steve Jones as Jem: He remodels/decorates a room in Georgia's house and Georgia thinks her mother is falling for him.
Stiff Dylans as themselves (with the extension of Robbie).
Ray Shirley as Woman with the Poodle
Benny & Jimmy as Angus: The cat of titular distinction.