Plot
Mrs. Sethi (Shabana Azmi) is a widow living in Southall who wants to marry off her only daughter, for she is alone and unhappy. Her daughter, Roopi, (Goldy Notay) is a little plump and opinionated. Mrs. Sethi finds that all her matchmaking efforts are rudely rejected. She avenges this behaviour toward her daughter by murdering the failed dates using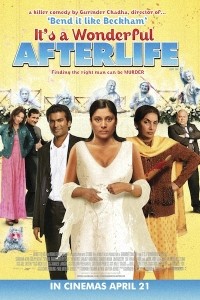 her culinary skills. A police hunt begins for a serial murderer using a killer curry.
Mrs. Sethi does not feel guilty until the spirits of her victims come back to haunt her. They are unable to reincarnate until their murderer dies. Mrs. Sethi must kill herself to free the spirits, but vows to get her daughter married first.
The spirits realise that helping Roopi find a suitable husband before the police catch Mrs. Sethi is in their best interests, and everyone begins to work together. Meanwhile, Roopi catches the eye of the young Sergeant investigating the case.
Gurinder Explains...
Gurinder conceived the film while watching 'The 100 Greatest Family Films' on Channel 4 when narrator Bob Hoskins introduced a wedding scene from Bend It Like Beckham.
"It was the Indian wedding scene and the party, which was inter-cut with the football, and immediately I remembered how much fun we'd had shooting that scene. The wedding is so integral to our culture that I suddenly thought 'How can I do another wedding scene without repeating myself?' So I thought maybe I could do it with a horror spin, where everything goes awry. Much like the prom scene at the end of Carrie. I started seeing this crazy film, set in Ealing, in the world of Bend It Like Beckham and yet in a completely different genre. We worked on the script, came up with the idea of the mum, the plump daughter and these spirits that return. Really it's an Ealing comedy about an Indian mum who lives with her daughter. The daughter is a little bit overweight, not exactly beautiful and has a broken engagement behind her. People in the community have been really mean about this girl and the mother has had enough. So she devises all kinds of ways of killing people off, using Indian cooking methods. And of course, being Indian, we believe in reincarnation. The people she kills come back as spirits and these spirits can't work out why they've not been reincarnated."
Cast
Shabana Azmi as Mrs. Sethi
Goldy Notay as Roopi
Sendhil Ramamurthy as Raj (D.S. Murthy)
Sally Hawkins as Linda/Gitali
Zoë Wanamaker as Mrs. Goldsmith
Sanjeev Bhaskar as The Curry Man
Catherine Balavage as Waitress
Shaheen Khan as Manjeet Kahl/The Kebab Woman
Adlyn Ross as Mrs. Chakra/The Rolling Pin Woman
Ash Varrez as Mr. Chakra/The Naan Man
Mark Addy as D.I. Smythe
Preeya Kalidas as Karishma
Jimi Mistry as Dev
Ray Panthaki as Jazz